ComSat AV: CCTV Solutions and Benefits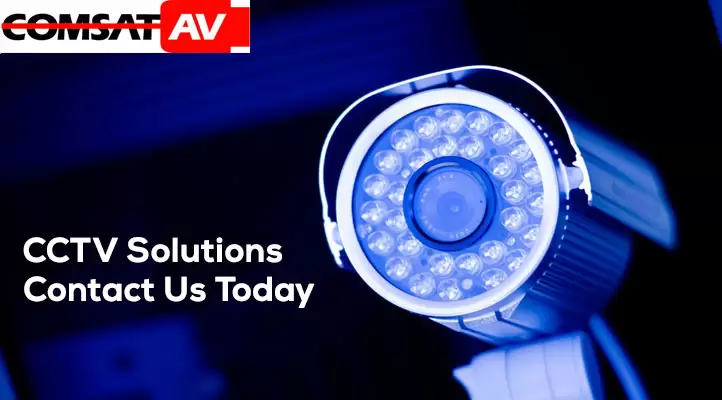 ComSat AV is a premier provider of closed circuit television (CCTV) systems. Our expert staff handles every aspect of CCTV implementation, from system design and consulting to install and technical support.
At ComSat AV, we are the trusted CCTV solution for all business and commercial facilities.
CCTV Benefits
With a focus on security and safety, the benefits of CCTV are numerous:
Safer working environment – CCTV helps to ensure adherence to health and safety policies and can be invaluable in staff training.
Increased deterrent – CCTV systems are a strong discouragement to potential thieves. When a potential threat sees that your business is protected by a closed circuit television system they choose to go somewhere else.
Reduced retail theft – businesses with poor security are deliberately targeted by shoplifters.
Increased detection – the prosecution rates for businesses owners using CCTV is many times higher than that for those without CCTV. If you are unfortunate enough to be a victim of crime at least there will be a strong chance of detection and conviction.
Eliminate fraudulent insurance claims – in an increasingly litigious society, it has never been more important to protect your business against claims that are not legitimate. CCTV can eliminate this and reduce your premiums.
Remote monitoring – keep an eye on your business when you aren't there. Our ComSat AV CCTV systems can be viewed and controlled remotely over the internet (via an iPhone, laptop, etc).
Reduced fear of crime – knowing you are well protected gives a feeling of security that should not be underestimated.
Receive warnings in advance – ComSat AV CCTV systems can alert you of any suspicious activity (via text or email), enabling you to view what's happening and if necessary notify the police 

BEFORE

a crime has been committed.
Increased professionalism – CCTV is an excellent staff training tool.
Staff protection – CCTV is perfect for preventing assaults and false claims of misconduct (ideal for schools, hospitals, etc).
CCTV System Features
We employ the latest and greatest technologies in our CCTV solutions. Some of the features offered by our closed circuit television systems include:
iPhone/Smart Phone Integration and Monitoring
Night Vision
Infra Red
Wide Angle Shooting
Weather-Proof Housing
Powerful Zoom and High Pixel Output
Email and SMS alerts
Missing Object Detection
Motion Detection
Scheduled Recording
2-Way Audio Monitoring and Broadcasting
and much more!
IP Surveillance Cameras
ComSAT AV has affordable, professional IP camera solutions for your business.  Internet protocol surveillance cameras offer the following benefits:
Easy to Use: intuitive interfaces allowing you access from any device
High-Resolution Imagery: IP cameras are digital end-to-end, which provides up to 25% more resolution than analog cameras. IP camera systems can deliver 30 frames-per-second of real-time video.
Future Proof: IP systems are easily updated for new capabilities and compatibility to keep up with emerging technologies.
Secure Transmissions: IP video systems encrypt your data from end-to-end.
System Integration: IP camera systems team with your existing alarm systems.  Many can be integrated with lighting, environmental and access controls for a virtual presence anywhere.
Lower Total Cost of Ownership: IP camera systems can leverage your existing cabling and computer network infrastructure, which often reduces the cost of installation to more than half of analog systems.
NVR Remote Access
ComSat AV will integrate NVR remote access into your system.  This allows users to remotely connect, view, and control the IP camera's live video by accessing NVRs on the network.  With ComSat AV's NVR remote access system integration, you will be able to connect using your smartphone or tablet.
Contact us to receive a personal consultation. Our experts will review the best options for your CCTV and IP camera needs.
Your audio and video systems help set the tone, energy, and atmosphere of your establishment.  ComSat AV is able to help your business move forward into the modern, digital era.  Begin enhancing your patrons' experience today, contact us for an initial consultation.
Interested in digital signage? ComSat AV is your premier source for digital signage solutions.  Send us a message or call 866-582-3081.