Video Wall Unveiled by Pacific Sotheby's International Realty in San Diego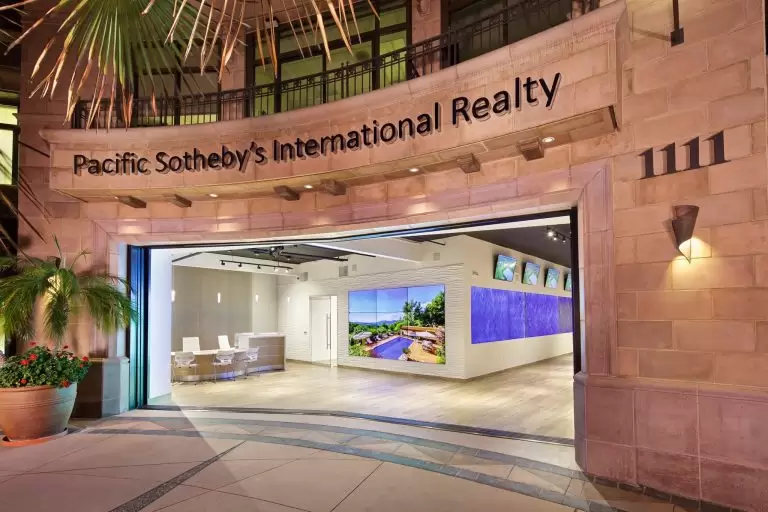 Pacific Sotheby's International Realty, San Diego's largest locally-owned and operated real estate firm, held a spectacular event showcasing a video wall at their new flagship location at 1111 Prospect Street in downtown La Jolla.
The video wall, a 165 inch 6K UHD, will provide visitors unrivaled views of Pacific Sotheby's various properties and listings and will be a 24 hour advertisement of why you should get your next dream home from Pacific Sotheby. Visitors will see stunning images brought to life by this custom designed video wall that adds meaning to the statement "a picture is worth a thousand words".
Audio and Video Integration Can Help Grow Your Brand
The design and installation of the wall is the work of ComSat AV, a San Diego specialist in audio and video integration for commercial applications. Jonathan Feld, president of ComSat AV, is a firm believer in using AV technology to provide quality services inside your business. Using video walls to market their properties, and putting that video wall in a prime location so the public can see it, is an incredible marketing opportunity for Pacific Sotheby. We enjoy working with companies that want to be on the cutting edge and use technology to their advantage, and Pacific Sotheby is such an organization.
Why You Need a Video Wall from ComSat AV?
ComSat AV's Video Walls combine our crisp, clean LED backlit panels and state of the art Video Processors into a powerful solution that allows you to present your information in vivid, sharp HD video images. With our suite of video wall control software, getting your information displayed just right is a snap. We have years of installation experience, so when it's time to install your video wall, you can count on a prompt, professional installation.
Contact us at 619-795-9444 to receive a personal consultation. Our experts will review the best options for your video wall and digital signage needs.