Cell Phone Signal Boosting for Commercial Buildings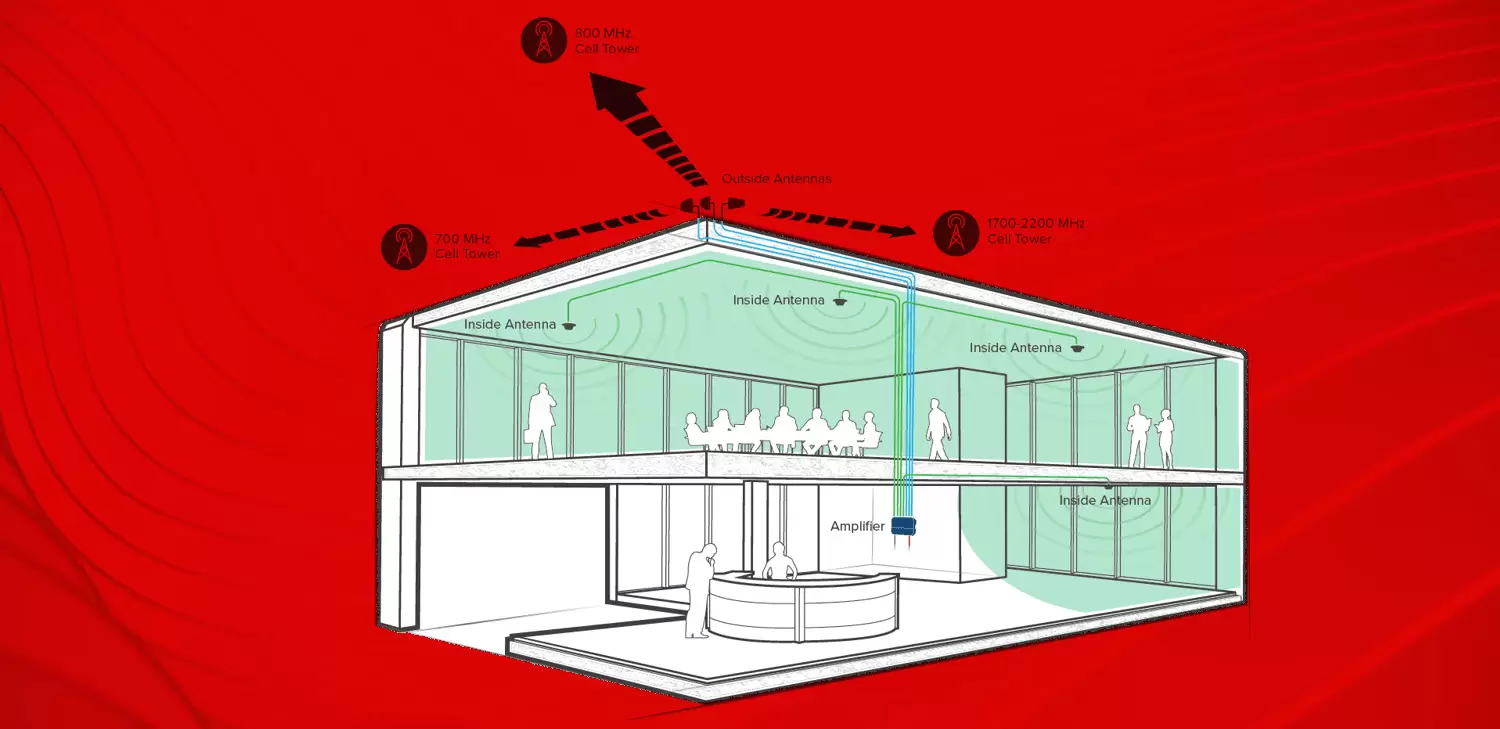 Cell phone signal boosting technology improves cellular signal strength inside  buildings like offices, hospitals, warehouses, schools, hotels, restaurants or other commercial buildings. 
Building materials and other factors create interference with electromagnetic waves, reducing or blocking cell phone signals.
Materials like metal or concrete weaken cell phone signals. So the more barriers (walls, distance) between the tower and the space you need signal in, the worse the experience.
How Does Cell Phone Signal Boosting Work?
Your exterior antenna communicates with cell towers close by.

Our boosters amplify the cell signals from the antenna.

The interior antennas broadcast the signals throughout your office or business.
Commercial Cell Phone Boosting Solutions
ComsatAV provides custom cell boosting installations. Our solutions improve cell signals inside commercial and industrial buildings helping clients overcome the challenges of cellular reception problems. We provide single or multi-carrier passive DAS solutions to optimize the indoor cellular signal.
ComSat AV sells and installs in-building passive DAS (Distributed antenna system) applications supporting all carriers including AT&T, Verizon, Sprint, T-Mobile, and any other GSM, CDMA, 3G, 4G, and now available 5G cellular signals to avoid 'dead spots'.
Our Systems Help You
Reduce dropped calls

Intelligible conversations

Stop missing calls

High Speed Data
Custom Signal Boosting Systems
Need help? We can design a custom cell signal boosting system for your building. The right solution depends on different factors besides the size of your office or commercial space. There are NO MONTHLY FEES. All FCC approved and we do free site surveys.
Contact us for a quote or if you have any questions.