Midway Aircraft Carrier Museum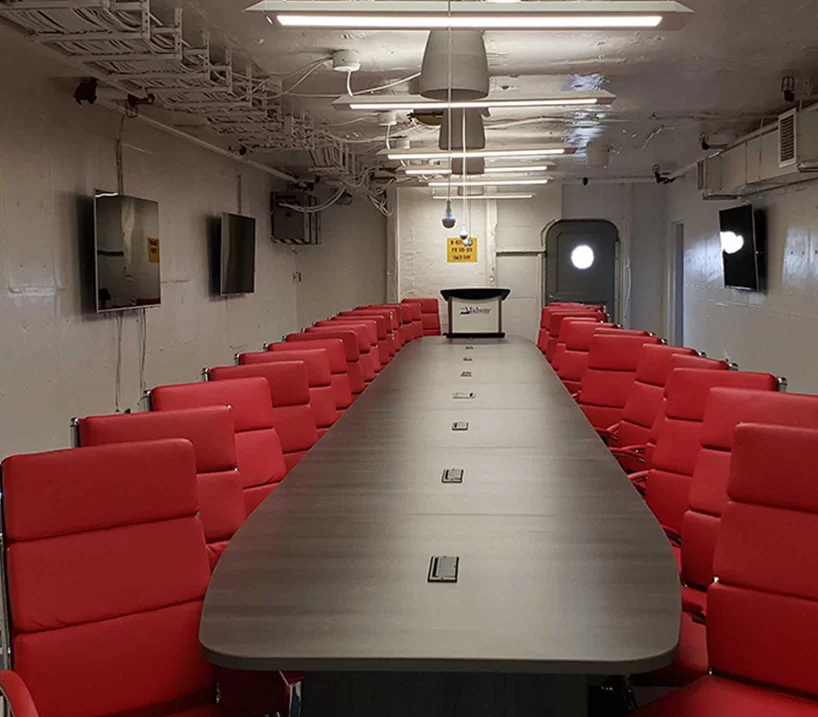 The USS Midway was the longest-serving aircraft carrier in the 20th century. Named after the climactic Battle of Midway of June 1942, Midway was built in only 17 months but missed World War II by one week when commissioned on September 10, 1945.
Background
The USS Midway Aircraft Carrier Museum is a historical naval aircraft carrier museum located in downtown San Diego, California at Navy Pier. The museum consists of the aircraft carrier Midway. The ship houses an extensive collection of aircraft, many of which were built in Southern California.
The challenge
In one of their meeting rooms they have a 60ft long table that can hold up to 40 people. With that length is understandable the trouble one would have to hear the people on the other side of the room. The USS Midway Museum called us to help them installed a system so that everyone in the room could be communicated properly. Being an aircraft carrier the ceiling was very low.
The solution
We installed a ClearOne System consisting of 4 hanging microphones and 5 pending speakers. This system was designed to talk in the room and be here clearly without having to approach any of the microphones.
We're glad to say that this project was made within the accorded timeline and budget.